Climadesign have recently invested in a FLIR E8-XT IR Camera to add thermal imaging surveys to our portfolio of services. Objects at different temperatures emit different levels of infrared radiation and thermal imaging uses heat-sensitive cameras to detect these temperature fluctuations.
Climadesign's Richard Parr commented "We have invested in training of the team and the camera as an important part of plans to help clients reduce their energy costs and associated carbon footprint."
The camera has helped Climadesign to highlight to clients heat leakage into thermal stores such as
coldrooms and freezers. We have also been able to use in display cabinets to show inconsistencies in product temperatures and impact from external sources such as ventilation ducts.
The adjacent thermal image shows inconsistent sealing between wall and ceiling joints in an existing chilled coldstore resulting in warm air ingress increasing the work on refrigeration plant & energy costs to run the refrigeration system.
By highlighting problems that can't be seen with the naked eye, Climadesign can engage with its clients to address the issue and solve problems.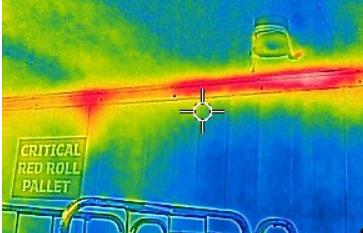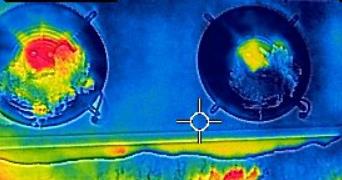 The camera has also allowed our team of engineers to work with service providers to identify future problems with electrical components. The thermal image adjacent of a coldroom evaporator unit highlights a faulty fan motor (on the left) allowing the service provider to replace pro-actively avoiding costly reactive call outs and downtime for the client on failure.
Proactive maintenance allows the industry to reduce carbon footprints by reducing vehicle emissions associated to multiple reactive calls.
As refrigeration & heat pump specialists adding thermal imaging to our technical service portfolio
allows Climadesign to expand and add value for our clients.
Contact us at support@climadesign.co.uk for a free quotation for thermal imaging surveys or to find out more about our services.